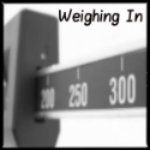 Good morning everyone. First off let me say a huge thank you to all who stopped by last week your advice and words of encouragement are truly appreciated i could not keep this up if not for those words. Second it seems that everyone was in agreement that i was not eating enough nor was I getting in enough fruits and veggies. So this week a strived to do better and though the scale may not reflected it I did feel much better. Here is an example of my new eating plan.
5:30AM ~ 8oz glass of Naked Juice Green Boost
8:00AM ~ turkey sausage on Biscuit
1Tbs. Jelly
11:00AM ~
Large salad with fat free dressing(no cheese or croutons)
Grilled chicken tenderloin
1 cup grapes
3PM ~ 1 square of Dove Chocolate (yes I can't live without chocolate)
5:00PM ~ 4oz tilapia baked
Large salad with fat free dressing(no cheese or croutons)
whole wheat roll
7:00PM ~ Protein shake (mad with Almond milk)
1 cup mixed berries
Total calorie intake 1442-204( 45 minutes of walking)=net calories 1238
On the exercise front I have started adding squats, sit-up, crunches and planks to my routine for toning though I'm not really sure about the planks. Plus I may just do crunches and leave out sit-ups as those are really hard for me and I can do crunches on my stability ball. Over all this week seemed better or at least I feel better. hoping by next week to see a change on the scale or in my clothes.
In the meantime my friends tell me how did your week go?
This weeks stats:
Beginning Weight ~

196
Last Weeks Weight ~

180
This Weeks Weight ~

180
Total loss this Week ~
0
Total Loss to Date ~
-16
Last Weeks Goals:
1. Track everything I eat even if it's one bite

(failed)
2. Exercise at least 30 minutes a day plus add toning exercises

(50/50
)
3. Drink at least 64oz of water each day

(50/50)
This Weeks Goals:
1. Track everything I eat even if it's one bite
2. Exercise at least 30 minutes a day plus add toning exercises
3. Drink at least 64oz of water each day