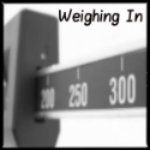 Good morning welcome to week 2 of weighing in. Thank you for all the wonderful support last week for my new journey and thank you to all of you who are planning on hooking up this week. So details my week was pretty good for this week. I did have a few slip ups but over all I ended the week with 24 bonus points left over and I did not touch any exercise points.
My slip ups included a few sugar cookies and a piece of fudge. Plus I didn't get in all the water I wanted but I did get in three days of bike riding on my stationary bike so I'm happy. Plus because I was more careful I notice I huge decrease in the swelling on my feet which was a huge plus. As you know with kidney failure water retention is a big thing so being able to pee more fluid off was great and the scale agreed. I know that most people especially those in the weight loss field always say your first week on any program show the biggest lost because they say it's water weight you lose. As I spent a lot of time getting acquainted with the royal throne I'm inclined to believe it.
So here is that over all stats for this week:
Beginning Weight ~
196
This Weeks Weight ~
188
Total Loss to Date ~
-8
Last Weeks Goals:
1. Drink at least 8 glasses of water
2. walk at least 20 minutes a day
3. Avoid the Christmas cookies as much as
possible
This Weeks Goals:
1. Drink at least 8 glasses of water
2. Exercise at least 20 minutes a day
3. Find one nice things to tell myself a day
Now remember guys feel free to hook up your post all week about what your doing health wise. All post are welcome anything related to being healthy exercise, diet, recipes and especially your own weight loss journey we are all here to help and support. also if you have time be sure and visit others to give them some encouragement we can all use a helping hand.